At this venue, every seat is a primo seat.
This jaw-dropping performance center is truly worthy of the finest performances. Here, every seat is spectacular. The Cabaret has cabaret-style seating. That means you may be seated with other parties, so be prepared to make some new friends. We do our best to accommodate requests. Really. However, not all table preferences can be guaranteed.

VIP
Maroon tables on chart
First three rows
Primarily two and four-top tables


BANQUETTE
Dark blue tables on chart
Row of cozy banquettes on either side of the room
This seating requires a step up
No more than two (2) people will be seated per banquette

MAIN FLOOR
Green tables on chart
Fourth row of the room
Primarily four-top tables


HIGH COCKTAIL
Pink tables on chart
All high cocktail tables
Tables are bar height with bar stools. All stools have a back and foot rest
Fifth row of the room
The Cabaret has "cabaret-style" seating. There is always the chance you may be seated with another party.
Table preferences are taken by calling the box office, but we can never guarantee a specific table.


Refunds
ALL SALES ARE FINAL.
No refunds. In the event of a cancellation for which there is no rescheduled date, a refund for this ticket may be issued at the discretion of The Cabaret's management.

Exchanges
Exchanges are free for current 3 & 6-show season subscribers up to 7 days prior to their performance. A $5 exchange fee per ticket will be charged the week of the performance.
Exchanges by single ticket buyers are available for a $5 exchange fee per ticket.
We ask patrons notify our staff 48 hours prior to the show for all exchanges.
Patron is responsible for paying the price difference when switching into another performance or a seating section of higher value.
Exchanges are only allowed between performances in the same season. Tickets will not roll-over between seasons and account credits are not available.
Excessive exchanges are subject to additional fees at the discretion of The Cabaret's staff.


Ticket Donations
If you cannot use your tickets, you may also return them to The Cabaret as a ticket donation. Tickets must be returned at least 48 hours prior to the performance. Tickets donated must be tickets that the patron originally purchased from The Cabaret, either via phone or website. Donated tickets will be recognized as a tax-deductible donation and you will be sent a letter recognizing this gift.
For any questions regarding tickets, please contact:
Tim Alan Thompson, Audience & Artist Experience Manager  |  (317) 275-1169  |  tim@thecabaret.org

SophistiTIX
SophistiTIX members (Ages 21-35) will receive 25% off per ticket. Limit of two (2) tickets per show per member. SophistiTIX tickets are still subject to a $4/ticket processing fee.
To sign up for SophistiTIX, please click here. Members will receive this discount when ordering tickets both via phone and website.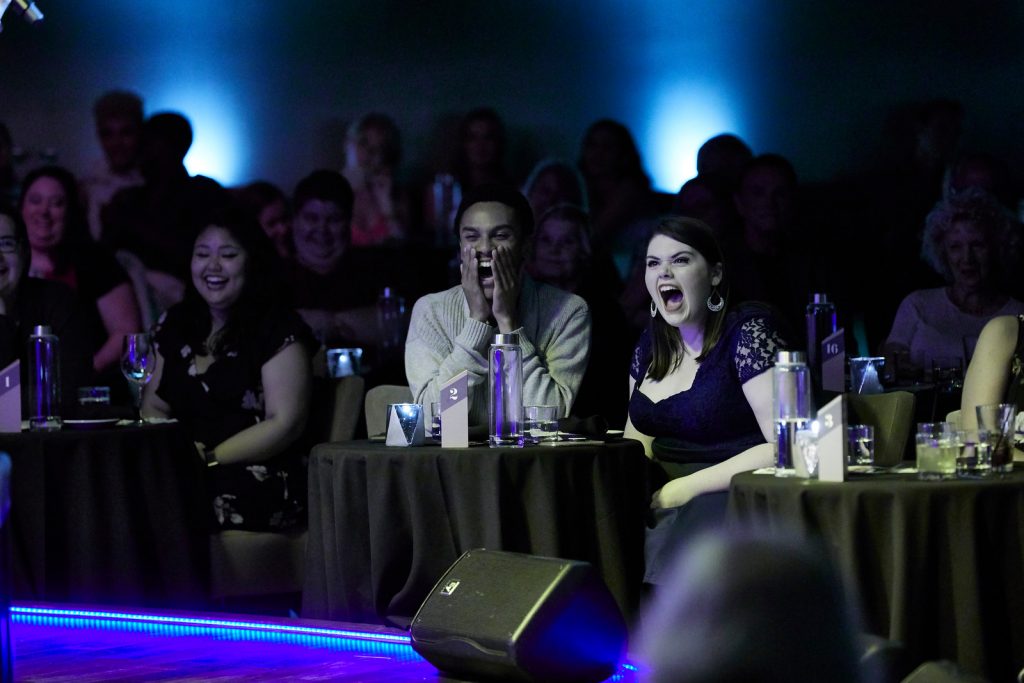 Student Tickets
Students with a valid student ID can purchase $25 tickets in the High Cocktail section. Limit of one (1) ticket per show per student. Student tickets are still subject to a $4/ticket processing fee.
To receive this discount, you must call the box office and present a valid student ID upon arrival at performance.
*These discounts are not applicable towards the Annual Fundraiser Gala, educational performances, or other special events.
Your generosity makes it possible to present shows with top national and international talent and train up-and-coming performers in the art of cabaret. LEARN MORE
Stay up to date on all things Cabaret, go behind the scenes, and see what your favorite artists are up to when they visit Indy. Need we say more?
JOIN MAILING LIST