Mission
The Cabaret is a nonprofit organization dedicated to elevating and promoting the cabaret art form by entertaining, educating, and engaging audiences and artists through world-class performance.
Vision
Our vision is to expand our reach and influence as a nationally renowned cabaret where premier performance and radical hospitality intersect to create an experience for all that is uniquely The Cabaret.
Values
We deliver the WOW.
Our dedication to artistic quality is second to none. It defines us. We deliver artists that inspire awe and provide unique experiences our patrons can't get elsewhere. We take pride in our stellar track record of artists who want to return.
Our commitment to excellence lives in everything we do. Details matter to us. We display quality in all aspects of the organization, from our daily work to the patron experience and beyond. We never stop improving and our rigorous standards ensure this commitment.
Our passion for the mission drives us. It's why we are here. We are committed to delivering a wide variety of meaningful and inspiring experiences for our artists, patrons, partners, and the community. The work we do thrills us, too.
We practice radical hospitality.
Our brand is built on being the best in hospitality. We love this. We provide a memorable experience where kindness and respect permeate every facet of our work. We want those we serve to enjoy an engaging and personal respite from everyday life, and we strive to exceed expectations.
Our culture of genuine gratitude is on display. We leave our egos at the door and the drama on the stage. We make thankfulness and appreciation customary features of daily work life by regularly showing all of those we touch that we're grateful for their contributions to our success.
Our atmosphere is positive and fun. It's how we roll. We choose to approach work in an optimistic way and are always friendly, personable, and responsive to others. We work hard but we keep things in perspective and make work fun whenever possible.
We welcome everyone here.
Our commitment to diversity runs deep. We revel in difference. We invite everyone into the experience and work hard to nurture diversity, inclusivity, acceptance, and accessibility. We respect everyone and strive to make all – from patrons to artists, staff, board, and beyond – feel valued and appreciated.
Our environment fosters inclusion and reflects our community. It makes us stronger. We maintain a warm, friendly, and open atmosphere where all who touch us are engaged, seen, heard, and celebrated – regardless of ethnicity, gender identity, sexual preference, or socio-economic background.
Our actions speak louder than words. We wouldn't have it any other way. We leverage relationships with key partners to pursue programs and educational opportunities that reflect and serve our community. We invest in training that promotes diversity, equity, and inclusion and continue to diversify our board.
We invest in each other.
Our support for each other is defined by care. We don't talk about each other, but to each other. We value one another as individuals and promote harmony and trust in our work. We deal with issues immediately, directly, and with respect. We foster a work culture that prioritizes well-being, balance, and personal and professional growth.
Our greatest work is accomplished as a team. No one does it alone. We are devoted to a trusting environment where employees feel appreciated and empowered to do their best work. We believe in teamwork, collaboration, and leveraging our collective genius.
Our individual and creative contributions are celebrated. We are unique and proud of it. We encourage all team members to openly share their differences, opinions, views, and ideas without fear. We are consistently honest, respectful, and genuine. We promote projects and ideas that energize our employees and give them purpose. We take time to celebrate our successes.
We do the right thing.
Our work is defined by strong performance and accountability. If it's to be, it's up to me. We operate with clearly defined goals and objectives and reward excellence. We are accountable to ourselves, each other, and the organization. We go the extra mile to make sure we deliver our very best in all we do.
Our focus is on best practices and long-term success. We're in it for the long haul. We support our mission and vision in a manner that ensures our long-term survival and lasting influence. We are committed to an audience, artist, and employee experience that is unique and approaches risk in a thoughtful, brave, and responsible way. We are structured, organized, and positioned for flexibility, adaptability, and future success.
Our operations support ethical and responsible behavior. The buck stops with us. We value systems and protocols that promote the outcomes we desire. We are responsible with our resources and good stewards of the funds entrusted to us, creating world-class experiences with elegance and economy. We cherish open, honest, and complete internal and external communications.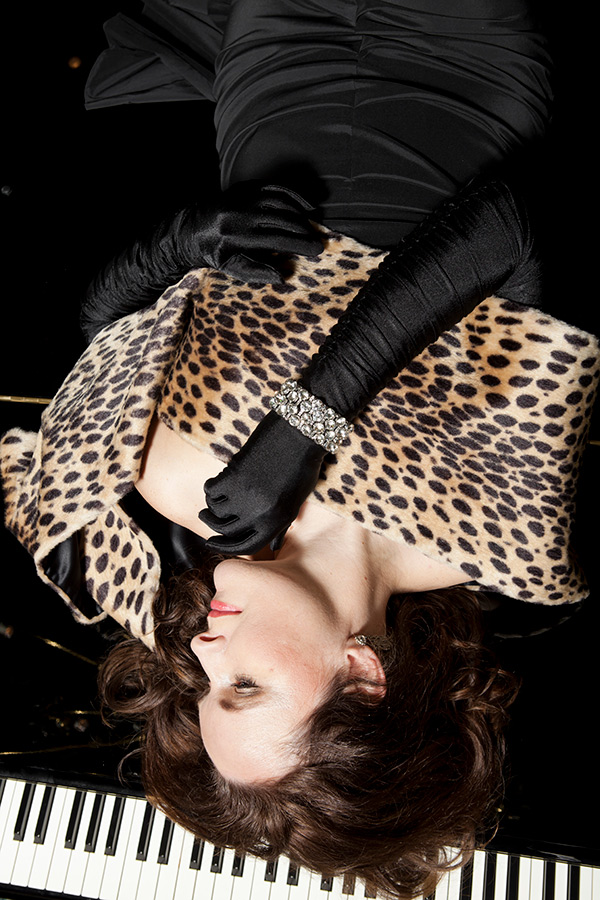 Artistic Director's Welcome
Thank you for visiting The Cabaret. Whether you've been attending performances for years, or are preparing to come to your first show, we're so grateful for the opportunity to host you in our award-winning venue.
When we started this adventure over a decade ago, we could never have imagined then that we would be here in our very own glorious venue today.   We have the great honor of bringing you world-class artists in a cabaret venue that rivals, if not, dare I say surpasses some of the best cabaret rooms in the country.
We are so proud that The Cabaret has been noted by regional media outlets for creating a new mecca for cabaret in the Midwest.  As downtown Indianapolis continues to grow, we are also thrilled to be a part of an emerging new cultural district – Library Square – alongside our neighbors the Arts Council of Indianapolis, Phoenix Theatre, and of course, Central Library.
We pledge to continue to work diligently to bring the best of the best in national and international cabaret artists to our stage, and to ensure that cabaret art form continues to thrive in Indianapolis.
You got us here, lovers of cabaret. Cheers to new beginnings, to you, and t­­­o years of magical performances in a glorious setting.
Warmest Regards,
Shannon Forsell
Artistic Director & CEO
What is Cabaret?
Isaac Mizrahi put it simply when he said "cabaret is theatre plus liquor."
According to the Merriam-Webster Dictionary, the term cabaret (derived from the French) originally meant "a shop selling wine."  Wikipedia describes cabaret as a form of entertainment featuring comedy, song, dance, and theatre, distinguished mainly by the performance venue — a restaurant or nightclub with a stage for performances and the audience sitting at tables (often dining or drinking) watching the performance.
The cabaret has its roots in the late 1800s in Europe with the opening of Le Chat Noir, in the Montmartre district in Paris.  It was an informal setting where poets, artists and composers could share ideas and works of art.  Performers tested new material and ideas with a very diverse audience who attended the cabaret for the price of a few drinks.
Read more
As the cabaret movement caught on, theaters sprang up throughout Europe during the early 1900s showcasing a variety of performance types and performers. By their very nature, cabarets represented safe and inviting venues for the general population including artists, lower and middle class citizens, and the aristocracy.  Cabarets provided new and sometimes experimental forms of artistic expression such as comedy, nouvelle burlesque and even politcal satire.
Esteemed cabaret artist, Andrea Marcovicci, defines cabaret as "an intensely personal evening of song and stories, delivered in a simple, honest way in an intimate space that shatters the fourth wall. The audience participates in a direct, emotional conversation with the artist and leaves feeling contacted and personally touched."   There is no character to hide behind, no sets, and, more often than not, no props. Cabaret is simply the performer, and a piano (sometimes a combo), and the audience, often in a venue small enough to feel like someone's living room.  It's a chance for an audience to get to know the performer in a way that makes them feel as if they just made a new friend. 

"The peak cabaret experience is a three-way relationship among singer, song and audience in which performers with formidable acting skills, whose interpretations make you hear songs as though for the first time, pour their life experiences in thematic shows.  In the shouting, brawling world of mainstream pop, the essential qualities of a cabaret performance — intimacy, emotional vulnerability and interpretive subtlety have little place."

Why Cabaret?
The cultural audience needs more than the big-budget, spectacular, one-way entertainment experiences of the modern day.  We've not forgotten the yearning for connection and meaning through performance and art. A cabaret performer bridges theatre and individual vocal performance; interpreting their material and inviting the audience into an intentional experience.
Cabaret venues thrive in major metropolitan cities, such as New York City, San Francisco.  The Midwest was lacking a major cabaret presence.  A successful cabaret venue contributes to Indianapolis achieving its vision of being a world-class city, and fills what was once an unmet niche in the local performing arts community.
<!========= Cool Timeline PRO 3.2 =========>
Your generosity makes it possible to present shows with top national and international talent and train up-and-coming performers in the art of cabaret. LEARN MORE