Welcome to The Alley.
Indy's coolest spot to vibe on a hot summer night.
The Alley at Library Square (The Alley) has been such a huge success, that we decided to do it all again – and we plan to have just as much fun this summer.
The Alley (created in collaboration with The Arts Council of Indianapolis and Buckingham Companies) is an outdoor community gathering space where guests can experience live music and art in a casual setting. We've also expanded the experience to include arts vendors, dancing, and more – creating a festival-like atmosphere. An original mural created by local artist Kwazar Martin serves as a vibrant backdrop for a vibrant array of performances – including jazz, soul, spoken-word, hip-hop, salsa, and more!
Oh, by the way: at The Alley, all performances are free to attend.
That means you'll have some extra cash to spend on cocktails and light bites, available at the walk-up bar that The Jazz Kitchen has on-site in The Alley.
Guests are encouraged (but not required) to make reservations if they want to be seated at a table, as table space is limited. Or hey, if reservations are full, bring a lawn chair and sit wherever you like – we're not picky!
Our 2023 Alley Sessions series has come to a close. Stay tuned for next summer's schedule!
We have a blast in The Alley.
Don't believe us? Check out this video recap of our very first summer in The Alley!
"The Alley Sessions" has brought a whole new sound to The Cabaret.
Our newest series to join the ranks of The Glick Philanthropies Broadway at The Cabaret, The Vande Bosche Jazz at The Cabaret Series, The Christel DeHaan International Series, and The Thomas P. Murphy Next Generation Series is The Alley Sessions. This series features a diverse array of programming – including spoken word, jazz, storytelling, incubator cabarets, and more.
We also partner with the Indy Arts Council and spotlight their "Art & Soul" featured artists in addition to other local artists.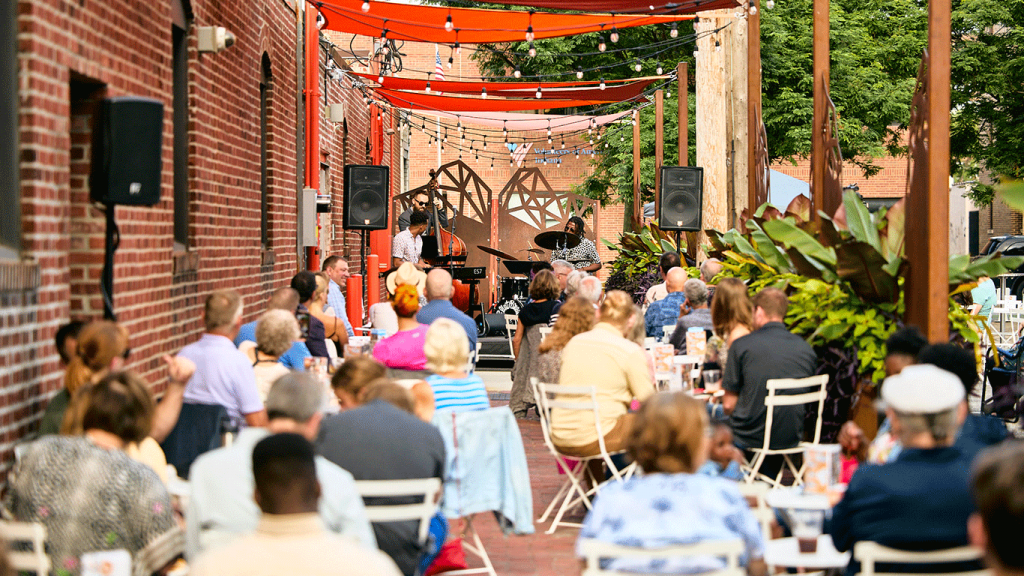 A lot of people have contributed to this project.
The Alley is a collaborative project, with The Cabaret serving as the lead partner along with Buckingham Companies and the Arts Council of Indianapolis. The project was made possible by a 2019 Lilly Endowment Inc. "Strengthening Indianapolis through Arts & Cultural Innovation" grant; the central goal is to transform the alley adjacent to The Cabaret into an outdoor art and performance space. Upon completion, The Alley will feature an artistic palisade and greenspace installation, murals, overhead shade sails, lighting, and seating. All three partnering organizations worked with acclaimed Indy artists Quincy Owens and Luke Crawley to design and develop the space. Additionally, Nicholas Douglas, a recent graduate of the Herron School of Art and Design, received a paid apprenticeship to work alongside Owens and Crawley through the Arts Council of Indianapolis' Equity Apprenticeships for Artists of Color, which was funded by Buckingham Foundation. The artists and partners agreed upon final designs in November 2020 and construction began in March 2021.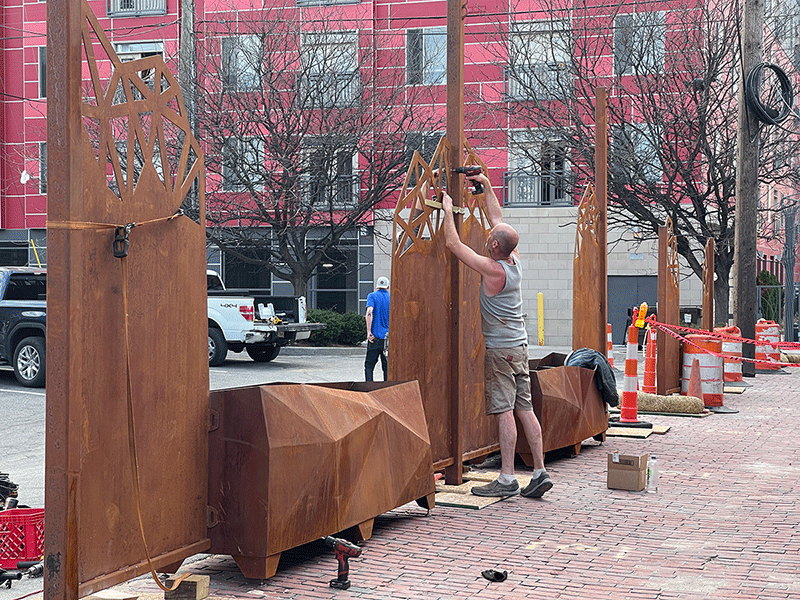 Artist statement from the designers:
Owens + Crawley
Palisade, 2021
Steel with plants, soil, and fabric
Presented by The Cabaret
Our modern world makes use of fences and borders to mark and separate space, while natural borders, like mountain ranges and rivers, have always served as important spatial limiters as they also become important identifiers of social and cultural connection. Regardless of the form, the existence of a barrier between two spaces often serves to highlight the connection between them. Palisade was conceptually inspired by this idea of interconnection while providing necessary separation.
The brick alley connects Pennsylvania St. and Scioto St. into a dynamic and fluid gathering space; Palisade physically separates this space from the adjacent parking lot.  The existence of the barrier is softened by the plantings, which also serve, with Palisade's upper edge, to inject a sense of the natural world into this intensively urban environment.
This project was completed through a 2019 Lilly Endowment "Strengthening Indianapolis through Arts & Cultural Innovation" grant.
Would you believe us if we said The Alley was inspired by an old garage?
We'll explain. From 1966 to 1978, a retired auto mechanic named Arthur "Pops" Simpson decided to reopen his three-car garage on the south side of Chicago as a haven for jazz, inadvertently starting what came to be known as The Alley Club. Every Sunday, The Alley Club would host DJs and musicians who collectively contributed to the energy and spirit of the neighborhood, producing an experience for jazz-lovers like no other. The experience of gathering in The Alley Club came to be known affectionately as "Jazz in the Alley."
Friendly DJ battles would erupt with judges awarding points to the best selection of music. These battles of the best have been the inspiration for the likes of Little George Harris, Al Carter-Bey, Herb Kent, and other popular disc jockeys to carry on the tradition of DJ battles. Eventually, live musicians joined the sets – the first of whom was saxophonist Jimmy Ellis. No matter who was part of the set, three things remained consistent from week to week: the music was loud, the energy was electric, and the party went well into the night.
In addition to providing musical respite, The Alley Club occasionally served as a place for community issues to be addressed. Above all, though, it was about good times and the love of music – and that's what we hope to emulate.
Lilly Endowment Inc. is a private philanthropic foundation based in Indianapolis. The Endowment was created in 1937 by  J.K. Lilly, Sr. and his sons – Eli and J.K. Jr. – through gifts of stock in their pharmaceutical business, Eli Lilly and Company. Although the gifts of stock remain a financial bedrock of the Endowment, it is a separate entity from the company, with a distinct governing board, staff, and location.
In keeping with our founders' wishes, we support the causes of community development, education, and religion. We afford special emphasis to projects that benefit young people and that strengthen financial self-sufficiency in the charitable sector.
We fund significant programs throughout the United States, especially in the field of religion, though we maintain a special commitment to our founders' hometown, Indianapolis, and home state, Indiana.