Through SophistiTIX,  young professionals 35 and under are eligible for ticket discounts and other VIP perks at The Cabaret.
Be sure to take advantage of this program before you get old and stodgy.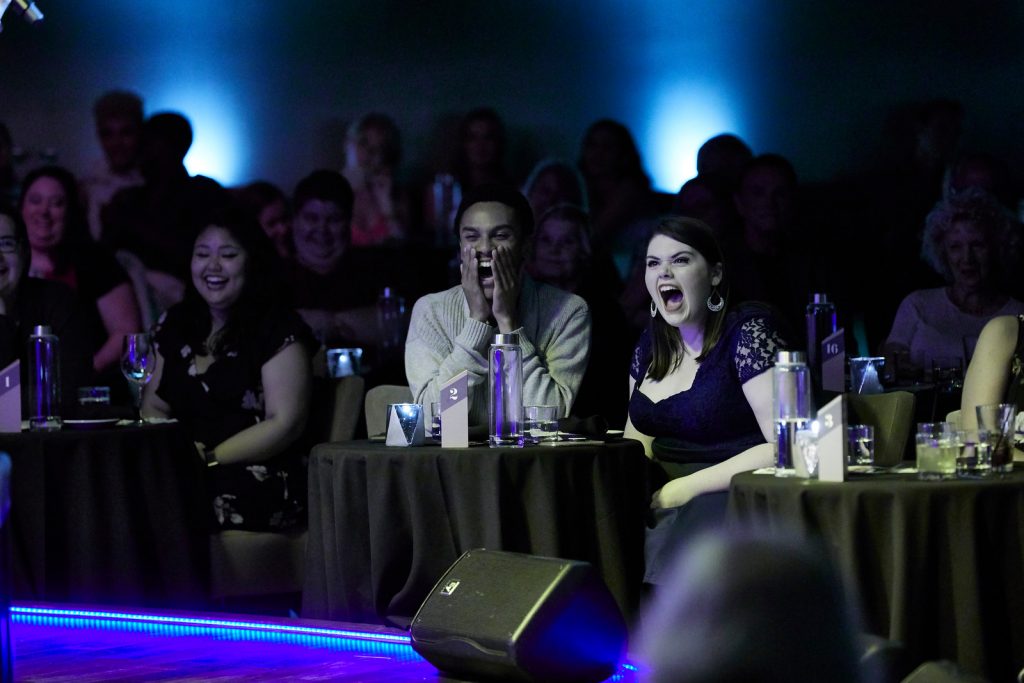 Your SophistiTIX membership is totally free.
All tickets are 25% off*. You can purchase two (2) tickets to each performance with your SophistiTIX membership and your guest can be any age.
Exclusive members-only events throughout the season.
Access to insider information and ticket discounts before the general public.
Complimentary glass of sparkling wine at your first show as a member.
Your membership will stay active until December 31st following your 36th birthday. No need to renew each year!
Frequently Asked Questions
Who can join?
Anyone 35-years-old and under!
How do I join?
Click the "JOIN SOPHISTITIX" link above and fill out the membership form with your name, address, e-mail, and birthday. As soon as you join, your membership is active and you can start redeeming your benefits.
How do I purchase tickets with my SophistiTIX discount?
When you purchase tickets on The Cabaret's website, you will see the option to log-in to your account on the payment page. Type in the email address associated with your SophistiTIX membership and your benefits will be automatically applied. If you experience issues, click "I don't know my password" and enter the email address associated with your account.
When you purchase tickets through the box office, be sure to mention that you are a SophistiTIX member! Your SophistiTIX benefits should be automatically applied.
How many tickets can I buy with the SophistiTix discount?
Each SophistiTIX member can purchase two (2) discounted tickets per eligible performance.
Why am I getting a "no membership found" error message when I try to redeem my benefits?
Double check that you have typed your email address exactly as you typed it when you signed up for your membership.
If you still are unable to redeem benefits, it means that all available SophistiTIX for that particular performance have been purchased, or your selected performance is not eligible for the SophistiTIX discount.
Should you wish to speak to someone on our team about any issues, please email info@thecabaret.org or call 317-275-1169 during normal business hours.
Tell me more about the post-show VIP!
Any time you use your SophistiTIX membership to purchase tickets, you will have the chance to be invited a VIP Meet & Greet with the star, based on availability. Keep an eye on your inbox for the invitation before the show!
Please note: due to the coronavirus pandemic, meet & greets have been canceled until further notice.

"We looked at the many places where we could spend our money for entertainment and realized there was no venue that came close to The Cabaret. The venue and staff simply make this venue the best in Indianapolis."

"Best in class. A truly delightful experience - over the top!"

"This space is truly what a cabaret is meant to be... an intimate setting of hightops and enclosed booths help the audience feel special and a lone piano with small, personal stage complete the picture."

"Indy's posh landing pad for Broadway stars on Pennsylvania Street."

"Awesome venue! I tell everyone I know about The Cabaret and encourage them to see a show."

"My favorite thing in the world is to connect with people, break the fourth wall, improvise, make people laugh, and talk directly to the audience. Cabaret is basically everything I like to do, all in one."

"One of the best environments for serious music fans in town!"

"Attending a cabaret show can feel like you're part of a (very stylish) secret society. It's you, the audience, seated at tables, sipping wine or a cocktail, with the vocalist, perhaps fresh off of Broadway, just a few feet away on stage."

The beauty of the Cabaret lies in the spontaneous nature of each show. Unlike well-known musicals, with cabaret, audiences never know what to expect next. Artists can choose to sing old standards or an original number. They can share personal stories or make jokes with random people in the crowd.

"The Circle City's swanky new cabaret space is Broadway's latest buzz.  Old Hollywood meets urban chic in a softly lit chandelier-filled room that holds 190 people—no seat in the house is more than five rows from the stage—it feels like Lea Salonga is giving her life story for you.  Stick around for a meet and greet after the spellbinding serenade."

Your generosity makes it possible to present shows with top national and international talent and train up-and-coming performers in the art of cabaret. LEARN MORE