The Next Generation
 The Cabaret partners directly with local universities, high-schools, and community organizations that have specific programs focused on cultivating the vocal and performance skills of students from high school to college. 
Most universities focus on the classical genre and few local performers are trained for cabaret. Training in this style of performance further develops singing talent, but also the ability to be truly vulnerable with the audience. Developing this ability requires specialized training and performance opportunities. Due to the intensive nature of the educational programs, The Cabaret makes a meaningful impression on a targeted number of students that yields a deep, long-term impact on their futures.
Partner entities are diverse and include universities such as Ball State University, high schools in Indianapolis and the surrounding counties, as well as nonprofit performing arts organizations in Indianapolis.
Pre-Show Performance Spotlights
Students from our educational programs have the opportunity to perform prior to shows with our national artists. Emerging performers apply skills developed in classes on stage.
Kayli Lucas of the Ball State University Department of Theatre and Dance
Professional Development Workshops
The Cabaret presents customized workshops with industry professionals. Sample topics include Understanding Contracts & The Importance of Artist Riders and How to Have Your Show Booked & How to Provide the Best Promotional Materials.
Student Show Experiences
There is no better way to learn the art of performance than by watching a world-class performance live and in-person. We invite students to attend a show so they can witness some of the best cabaret artists perform in an intimate, up-close and personal setting. Students are then invited to meet the artist(s) following the show.
Students of the Ball State University Department of Theatre and Dance attend Gavin Creel's 2019 performance at The Cabaret
Virtual Performances
The Cabaret engages former Cabaret students who are now burgeoning professionals with paid opportunities to hone their skills in all aspects of virtual performance – from arranging, producing, and performing, to creating virtual content that The Cabaret can share in our Revelry Redefined e-newsletter "Revelry Redefined" and on our popular YouTube channel, which receives over 1M views annually.
The videos featured below were created and performed by Kayla Davion and Keirsten Hodgens, Ball State University Department of Theatre and Dance Alum, both of whom have gone on to perform professionally. The Cabaret commissioned Kayla and Keirsten to create these fantastic for our education program.

Incubator Series
As part of our mission to develop the next generation of cabaret performers, The Cabaret works with select promising performers in developing a full-scale cabaret show from start to finish to be presented on our stage.  We provide one-on-one training for the show; produce the marketing materials and show; work with the artist on promotional and marketing materials for future opportunities and help to promote the artist to other cabaret venues around the country.
Brent Marty & Claire Wilcher's original show In Character! at The Cabaret in 2018

Internship Opportunities
The Cabaret mentors students each year through internships tailored toward students' professional learning goals in arts management, marketing, and public relations. Internships are centered on practical opportunities for participants to experiment with ideas while building resources for future careers in the arts.
The Cabaret believes that this investment in the next generation of arts administrators helps keep young talent in Indianapolis.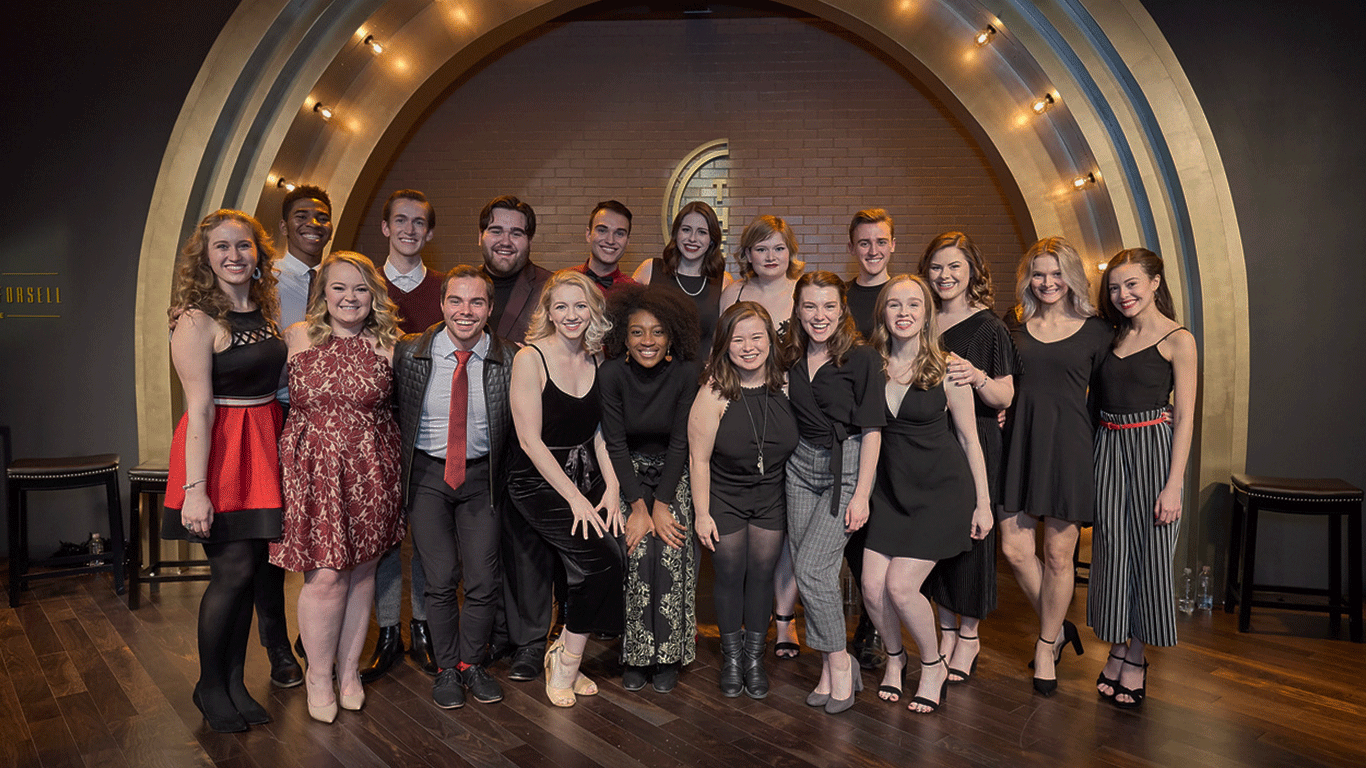 BALL STATE UNIVERSITY DEPARTMENT OF THEATRE AND DANCE
The Cabaret partners with Ball State University's Theater and Dance Department to provide experiential learning opportunities for students each semester.
Artistic Director, Shannon Forsell, worked with the university to develop a vocal and cabaret course in 2013.  This program has since grown to two cabaret courses annually that culminate with a showcase at The Cabaret in the winter and spring.
The senior course is taught by esteemed Broadway star Sutton Foster (Anything Goes, Thoroughly Modern Millie, Violet) and Emmy Award-winning music director, Michael Rafter (Violet, Gypsy, Sweet Charity, Thoroughly Modern Millie).  The classes culminate in a full-scale student cabaret showcase at The Cabaret. The students then present the show at New York City's famed Joe's Pub.
Students in this program are also featured throughout the year in pre-show spotlights prior to performances by national artists. This series provides the emerging performers the opportunity to apply the skills they developed in class on stage.
For more information about the Ball State University Department of Theatre and Dance, click here.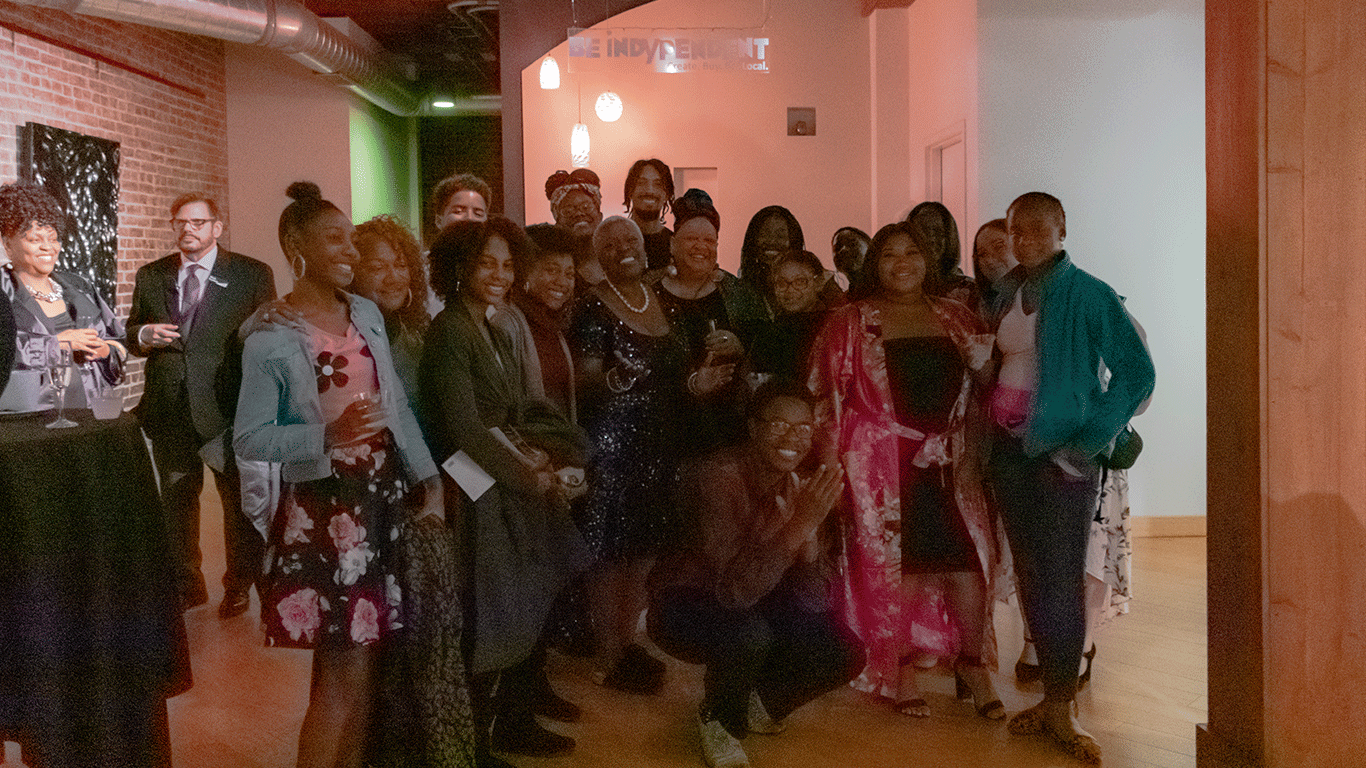 ASANTÉ CHILDREN'S THEATRE
Our longstanding partnership with Asanté Children's Theatre helps expose Indianapolis youth to professional theatre and cabaret performers who exhibit the polish and professionalism each ACT youth aspire to.
Asanté Children's Theatre participants also receive in-person and virtual masterclasses with some of Broadway and jazz's biggest stars.
For more information about Asanté Children's Theatre, please click here.
In addition to our formal programs, The Cabaret annually partners with other community organizations for special education programs/workshops.

Your generosity makes it possible to present shows with top national and international talent and train up-and-coming performers in the art of cabaret. LEARN MORE