Looking for a somber evening of traditional theatre? Look elsewhere.
Here at The Cabaret, we take the performing arts, and having fun, very seriously – and we want you to be part of the merriment. Enjoy some of the most highly acclaimed Broadway stars, jazz artists, and international cabaret acts – all while sipping craft cocktails from the Glick Bar. And while you're at it, why not order dinner? We'll bring it to your table during the show.
Spend the evening with us and find out why we're the Midwest's undisputed home for cabaret entertainment.
Winner of Indianapolis Monthly Best of Indy Award for Best New Performance Venue (2018)
Winner of the Arts Council of Indianapolis' Artful Impact Award (2018)
Winner of the Indy Chamber People's Choice Monumental Award for Interior Design (2022)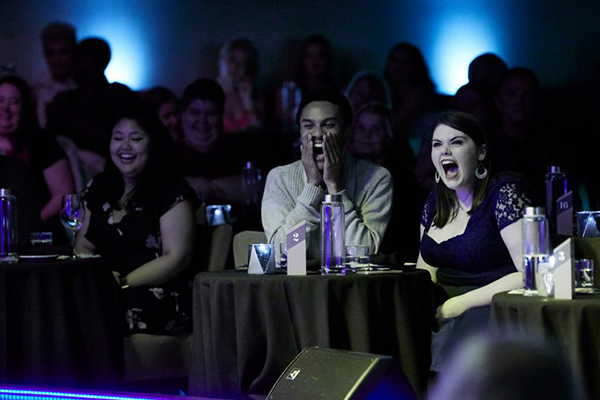 Students and young professionals deserve a night out, too.
But, paying full price? In this economy? Nah, you deserve a discount.
If you're 35 or younger, join SophistiTIX (our young professionals group) and get discounts on tickets. Membership is free, and you'll receive 25% off up to two tickets per show.
We also have a limited number of discounted student tickets available for each show. These tickets can be selected during the ticket-purchasing process – no codes or membership necessary! (If you snag one, just be sure to bring your student ID with you to present at check-in.)
Our discount programs are made possible by our friends at Sabello, who strive to make theatre accessible to all. Let's give them a hand.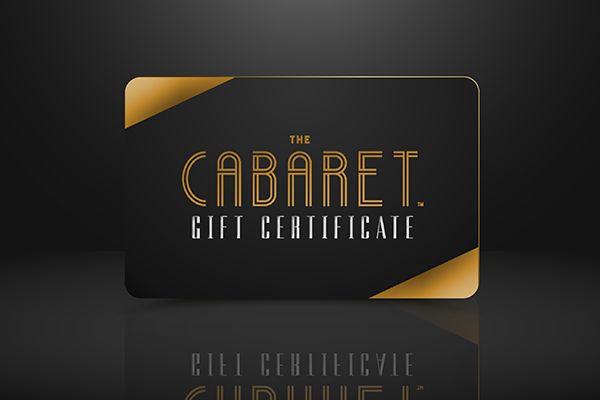 Give the gift of music and merriment.
A Cabaret Gift Certificate may be used to purchase tickets to any regular performance* at The Cabaret, making it a perfect and unique gift for that person who's hard to buy for. Or, you can buy one for yourself – that way you'll have the promise of a fun night out waiting for you on the other side of the pandemic!

The beauty of the Cabaret lies in the spontaneous nature of each show. Unlike well-known musicals, with cabaret, audiences never know what to expect next. Artists can choose to sing old standards or an original number. They can share personal stories or make jokes with random people in the crowd.

"This space is truly what a cabaret is meant to be... an intimate setting of hightops and enclosed booths help the audience feel special and a lone piano with small, personal stage complete the picture."

"Indy's posh landing pad for Broadway stars on Pennsylvania Street."

"The Circle City's swanky new cabaret space is Broadway's latest buzz.  Old Hollywood meets urban chic in a softly lit chandelier-filled room that holds 190 people—no seat in the house is more than five rows from the stage—it feels like Lea Salonga is giving her life story for you.  Stick around for a meet and greet after the spellbinding serenade."

"We looked at the many places where we could spend our money for entertainment and realized there was no venue that came close to The Cabaret. The venue and staff simply make this venue the best in Indianapolis."

"One of the best environments for serious music fans in town!"

"Awesome venue! I tell everyone I know about The Cabaret and encourage them to see a show."

"My favorite thing in the world is to connect with people, break the fourth wall, improvise, make people laugh, and talk directly to the audience. Cabaret is basically everything I like to do, all in one."

"Attending a cabaret show can feel like you're part of a (very stylish) secret society. It's you, the audience, seated at tables, sipping wine or a cocktail, with the vocalist, perhaps fresh off of Broadway, just a few feet away on stage."

"Best in class. A truly delightful experience - over the top!"

Your generosity makes it possible to present shows with top national and international talent and train up-and-coming performers in the art of cabaret. LEARN MORE